Looking back on Saturday's Boom Box Classic between Southern and Jackson State, there was quite a bit going on. Not only did Southern crush JSU 42-28, and not only did its band throw some epic shade at the home team, but both teams showed off helmet and jersey modifications.
(SWAC.com photo)
Southern ditched it's normal interlocked "SU" logo in favor of a white jaguar with blue edging.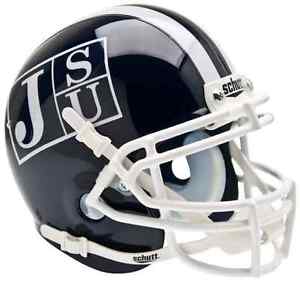 (Ebay.com)
Jackson State's helmet change was a bit more subtle, as it swapped the blue background for it's JSU logo for a red one. It also added a uniform change, replacing "Jackson State" with "Tigers" on the chest of the jersey. JSU also modified its jersey font.
(JSUTigers.com photo)
What do you think of each team's uniform modifications?