(Houston Chronicle photo)
Courtney Brown, Prairie View
Brown is a big reason why his teammate Jerry Lovelocke ranked so high on the quarterback list a few weeks ago. The bruising 6'0, 200lb running back had a breakout junior season in 2013, rushing for 1,039 yards and 10 touchdowns to help Prairie View finish second in the SWAC in rushing yards. He's also a talented receiver, as he hauled in 52 passes and caught four touchdowns out of the backfield. With he and Lovelocke in the backfield, defending the Panthers will be no easy task.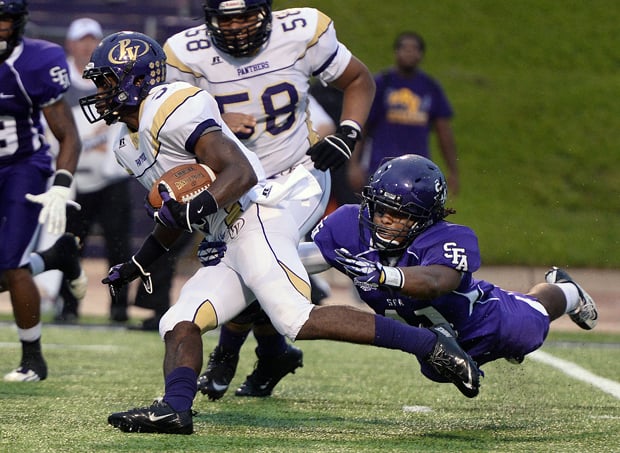 Johnta' Hebert, Praire View
With all due respect to his teammates Lovelocke and Brown, Herbert may be the most versatile backfield player in the SWAC. After earning his stripes as a kick returner during his freshman season, the Panthers decided to put the ball in Hebert's hands more in 2013 and it paid off big time. He rushed for 907 yards on just 151 carries, 250 of them in the season finale against UAPB. Hebert's ability as a breakout runner is legit, as he broke off several runs of 40-plus yards last season. Add that with his pass catching abilities (36 catches last year) and you have one of the most exciting players at the FCS level.
(Central Ky. News photo)
Malcolm Cyrus, Alabama State
After two seasons of taking a backseat to Isaiah Crowell, Malcolm Cyrus will finally take a starring role in the Alabama State backfield. He was pretty good in his supporting role last season, rushing for 742 yards and six touchdowns. He really flashed his potential as a feature back late October when he stepped in for a banged up Crowell and rushed for over 350 yards and two touchdowns in a two-game stretch against Prairie View and Alabama A&M.
(NOLA.com photo)
Lenard Tillery, Southern
Last season, Dray Joseph and Lee Doss were the unquestioned stars for Southern. And rightfully so, as both players had great seasons to end their careers with a SWAC title. But without Tillery, there wouldn't have been a SWAC title for Southern. The redshirt freshman from Baton Rouge played a big role for the Jags from his first game against Prairie View (3 rushing TDs) through the Bayou Classic, where he ran for 104 yards and a touchdown. With Joseph and Doss gone, expect Tillery's totals of 787 yards and nine TDs to jump in 2013.
(ForwardTimesOnline.com photo)
Ben Anderson (UAPB) and Homer Causey (Texas Southern)
Ok, so both these guys are quarterbacks, but when you put up numbers on the ground like these guys its hard to ignore. Anderson (our top-rated SWAC QB) ran for nearly 900 hundred yards and nine touchdowns last year. Causey proved to be more effective running the ball than throwing it as he rushed for just under 700 yards and had four games of 100-plus yards rushing.