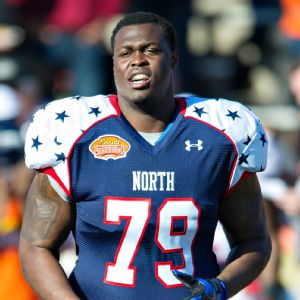 It's been a pretty big day for Kadeem Edwards. He picked up his college degree and was drafted into the NFL on the same day. The Tennessee State guard was selected 143 overall by the Tampa Bay Buccaneers on Saturday.
Congratulations @TSUedu OG Kadeem Edwards, #143 (fifth round) overall @nfl draft pick of @TBBuccaneers! pic.twitter.com/1C3hef2Gdl
— BlackCollegeFootball (@BCFHOF) May 10, 2014
//platform.twitter.com/widgets.js Edwards also turned heads in the Senior Bowl, and helped Tennessee State become the first HBCU to win an FCS playoff game since 1999 last season. He ruffled some feathers with comments he made regarding HBCU football at the Senior Bowl. 
Kadeem Edwards Drafted by the Tampa Bay in the 5th round. I'm so proud of this kid. He also got his degree today pic.twitter.com/kigrTa1pIU
— Rod Reed (@Tigerpride53) May 10, 2014
//platform.twitter.com/widgets.js ESPN's Mel Kiper likes Edwards potential.
"Could Kadeem Edwards be a starter?" Kiper said on the air. "I think he could."
https://vine.co/v/Mg5L20W5edH/embed/simple//platform.vine.co/static/scripts/embed.js