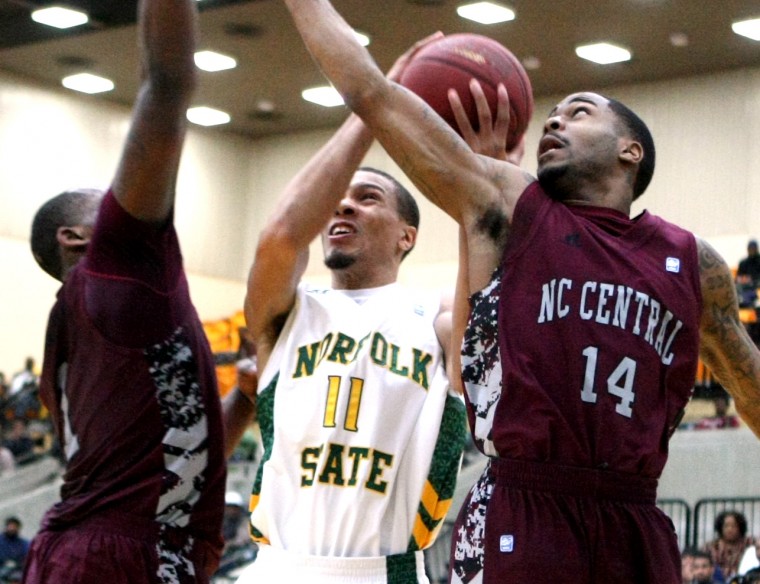 Though Texas Southern and North Carolina Central were the only HBCU squads in the NCAA Tournament, several others will be playing postseason ball. Norfolk State and Alabama State have  accepted bids to the College Insider Tournament and Hampton will play in the College Basketball Invitational Tournament.
Norfolk State (19-14) will travel to Eastern Michigan for a first round matchup on Tuesday. NSU will be making its third straight postseason appearance (2012 NCAA, 2013 NIT) and its first under coach Robert Jones, after finishing tied for third in the MEAC.
CIT schedule officially released — http://t.co/gVPoGZMF5F — EMU hosts Norfolk State on Tuesday.
— Hustle Belt (@HustleBelt) March 17, 2014
//platform.twitter.com/widgets.js Alabama State will travel to Sam Houston State on Tuesday for its first round matchup. Alabama State finished second in the SWAC during the regular season and fell to eventual conference tournament champion Texas Southern on Friday night.
Alabama State Men's Hoops Not Done Yet: http://t.co/hptUimG4pq #THESWAC #SWACMBB @collegeinsider
— The SWAC (@theswac) March 17, 2014
//platform.twitter.com/widgets.js Hampton (18-12) will travel to Penn State for its opening round game on Wednesday. Hampton finished second in the MEAC during the regular season before being upset by Coppin State in the MEAC quarterfinals.
In case you're wondering, the CIT is in its sixth season. According to sports agent Jason Belzer, the CIT pays all expenses for the road teams in its tournament. Sounds like a win-win for those programs.