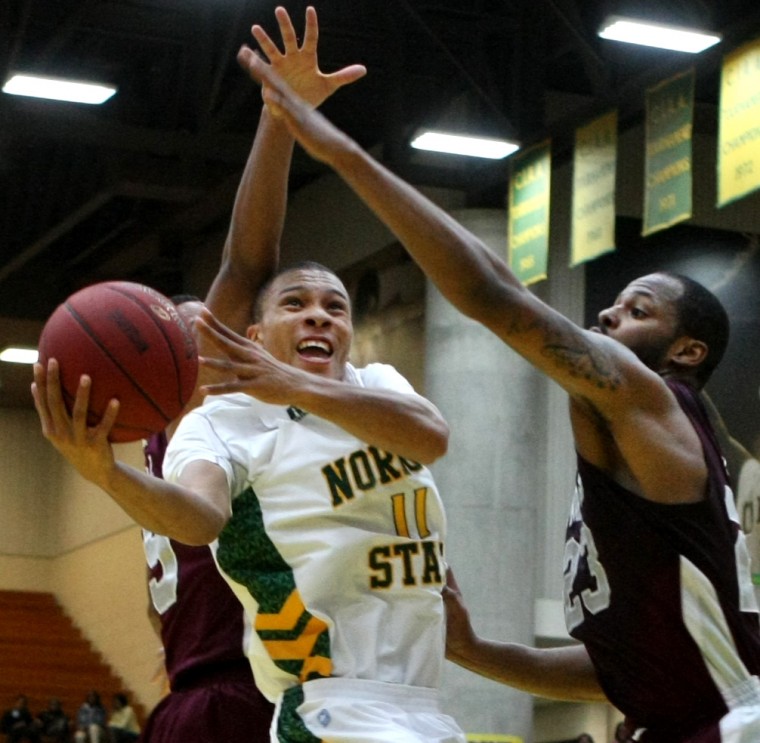 Pendarvis Williams will have to step up his scoring with Malcolm Hawkins out. (Hampton Roads photo)
Norfolk State (12-10, 6-2) @ Morgan State (8-12, 6-2)
It seems like an eternity now, but these two teams met up in Norfolk just three weeks ago. Morgan State had its way with Norfolk State, coming away with an 87-70 win which helped it open up a lot of eyes around the MEAC.
Both teams have lost two games each since then, but you get the feeling that Morgan State has more momentum heading into this game, especially coming off that big double overtime win against Hampton on Monday night. NSU had a bad loss to South Carolina State, an unimpressive win against Savannah State and a 15 point loss to Miami in its last three games. They are also without leading scorer Malcolm Hawkins, who is likely done for the season.
With that said, expect this to be a fun game to watch. It features two of the league's best perimeter players in Morgan's Justin Black and Norfolk's Pendarvis Williams. It also features two of the MEAC's better low post players in Anthony Hubbard and Rashid Gaston.
The winner of this game will stay at least a game behind NCCU, while the loser will join a crowded field in the middle.
James Daniel averages 20.4 points per game to lead the MEAC. (Hilltop Photo)
Howard (6-17, 4-4) @ Hampton (11-11, 6-3)
Don't tell this to any alumni, but these Hampton and Howard squads actually have some common ground. Howard's roster features eight freshman. Last year's Hampton roster featured seven true freshman. Both teams also feature guards from the Tidewater Area in Hampton's Deron Powers and Howard's James Daniel.
The point is, both of these teams rely heavily on young players. Hampton's players are a year older and likely a little better at this point than Howard's. And Howard has won just one of its fifteen contests outside of its home gym this season. It will be interesting to see how the young Bison handle the hostile crowd at the Convocation Center.
Daniel enters the game leading the MEAC in scoring at 20 points per game. The Hampton native hasn't been shy about putting it up this season, and with him likely playing in front of a lot of friends and family on Saturday, don't be surprised if he shoots them in or out of this game.
Other Games:

Bethune-Cookman @ NCCU
FAMU @ NC A&T
SC State @ Del State
Coppin State @ UMES