NCCU dropped its MEAC opener to Bethune-Cookman. (News Observer photo)
1. North Carolina Central (9-5, 1-1): The Eagles remain atop the Power Rankings, but their loss to Florida A&M definitely diminished the margin between them and the rest of the field.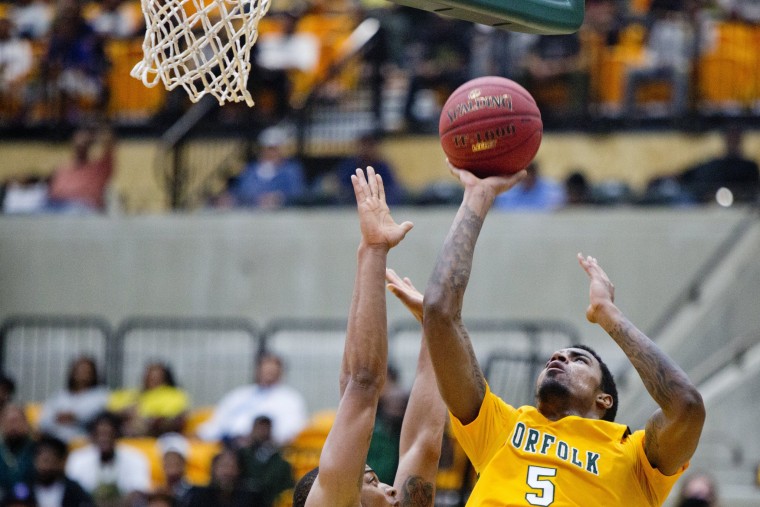 Norfolk State continues to own the MEAC. (Hamptonroads.com photo)
2. Norfolk State (10-7, 4-0): After a solid performance in a tough non-conference schedule, Norfolk State is back to doing what it does best–beat up on the MEAC. The Spartans haven't lost to a conference opponent since the 2012 season.
Southern is undefeated in SWAC play. (
3. Southern (8-9, 4-0): Starting with the infamous Champion Baptist win, Southern has won five in a row, including its first four SWAC games. The young Jaguars seem to have grown up quick from their tough non-conference schedule and look more than capable of defending their league conference tournament championship crown.
Hampton is currently undefeated in MEAC play. (Mark Sutton photo)
4. Hampton (8-8, 3-0): The Pirates have gone 5-3 since November, including wins over Winthrop and James Madison.
Texas Southern is currently 3-1 in the SWAC. (TSU photo)
5. Texas Southern (6-9, 2-1): Taking the three overtimes to beat Prairie View was probably more concerning than losing to Southern. Still, with Mike Davis on the bench and Aaric Murray on the court, this team is not to be overlooked.