Grambling's player-led revolt stirred up headlines nationwide.
1. Grambling's Player Revolt
A once-proud Grambling program found itself back in the public eye, for all the wrong reasons. Things hit the fan following the Tiger's blowout loss to Alcorn State in the Circle City Classic, the team's seventh straight to open the season. Players were upset with interim coach George Ragsdale, long bus rides and what they claimed were unsanitary facilities. So the Grambling players skipped practice, and then refused to get on the team bus to Jackson State.
@NateDaGreat26 make makes statement on behalf of G-Men. #gramfam #blackngoldmovement pic.twitter.com/XgZ6z4mhkS
— ☥[HER]storian☥ (@ZakiyaDada) October 21, 2013
//platform.twitter.com/widgets.js In the days that followed, players tweeted pictures of the facilities, many of which appeared to verify the players claims. Meanwhile, the administration denied the mold accusations on national media outlets such as ESPN and the Tom Joyner show. Eventually, both sides caved and the players returned the following week to play Texas Southern.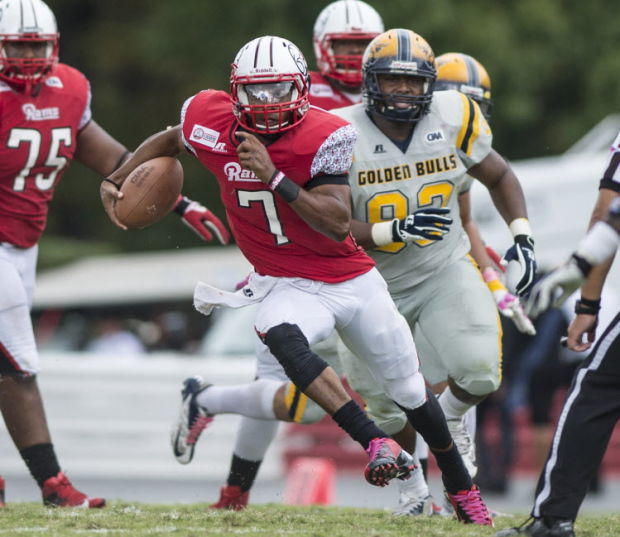 (WS Journal photo)
2. CIAA Championship Game Madness
The CIAA Championship Game was supposed to be the conference's crowning football achievement. Instead, it ended up dealing it a black eye in front of the eyes of millions. Hours before Winston-Salem State and Virginia State were supposed to play, the game was called off after an after WSSU quarterback Rudy Johnson was hospitalized after an altercation between he and at least one Virginia State player.
Virginia State – Winston-Salem State – Canceled (Stupidity)
— HBCU Digest (@HBCUDigest) November 17, 2013
//platform.twitter.com/widgets.js News of the event spread quickly from social to traditional media, and within a matter of moments, grabbed headlines on media outlets like ESPN and CNN. VSU running back Lamont Britt was charged with assault and a 9-1 Virginia State team missed the playoffs as a result of the incident.
Doug Williams was fired as Grambling's coach after an 0-2 start. (USA Today photo)
3. Doug Williams Fired

Coming off of a one-win season, most people figured the pressure would increase on Doug Williams. But hardly anyone could have predicted that Grambling's favorite son would be cast away after starting 0-2. Despite the team's recent record, the firing was a head-scratcher considering the former Super Bowl MVP's connection to his alma mater. Williams' fire made national headlines, putting Grambling's football program, and President Frank Pogue under the national micro scope.
Southern nearly became the first no. 16 seed to beat a no. 1 seed. (Sports Illustrated photo)
4. Southern (Nearly) Makes History
Even though they're a 1-seed, something tells me Southern took a look at Gonzaga & thought "…we can take these dudes."
— •Risse• (@RisseSpeaks) March 21, 2013
//platform.twitter.com/widgets.js
SWAC basketball has been a punchline in college basketball for a while, but Southern nearly had the last laugh this march. After winning the SWAC basketball title, the Jaguars became the first SWAC team in years to avoid the play-in game. They did, however, draw Gonzaga, the tournament's top team. All Southern did was give Gonzaga every thing it could handle before falling short in a 64-58 loss.
North Carolina A&T put together a memorable MEAC tournament run in March. (Baltimore Sun photo)
5. MEAC Madness In Norfolk
Before the MEAC tourney kicked off in Norfolk, the consensus was it was Norfolk State's tournament to lose. Not only did the Spartans roll through the regular season undefeated, they were also playing in their back yard. But NSU ran up against an inspired Bethune-Cookman team that stunned it 70-68 in front of the home crowd.
Gotta say, A&T looks like a totally different team from regular season. They turned it on during the MEAC tourney, and its still going.
— HBCU Digest (@HBCUDigest) March 20, 2013
//platform.twitter.com/widgets.js With NSU out of the mix, suddenly North Carolina Central was the team to beat. NCCU was coming off its first 20-win season since moving to Division I in 2007, and it was playing an A&T team that it had already beaten twice in the regular season. But the third time proved to be the charm for the Aggies, as they disposed of their rivals 55-42 and went on to claim their first conference tournament title since 1995.