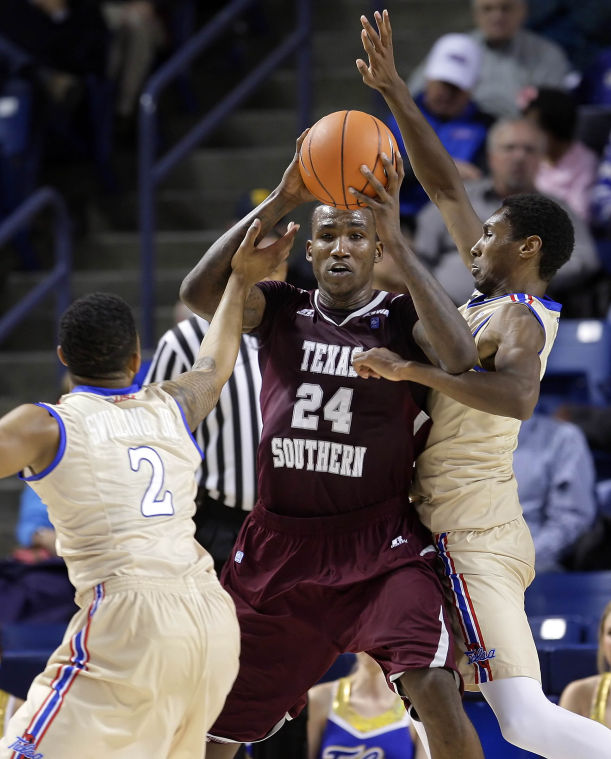 Aaric Murray scored an NCAA-high 48 points against Temple. (Tulsa World Photo)
Texas Southern's Aaric Murray has been on a tear all season, but on Wednesday night, he took it up another level. The graduate student scored a NCAA season-high 48 points while leading TSU to a 90-89 upset of Temple.
Texas Southern C Aaric Murray scores a Division I season-high 48 points (20-28 FG) in 90-89 win over Temple.
— SportsCenter (@SportsCenter) December 19, 2013
//platform.twitter.com/widgets.js Murray, a Philadelphia native and former La Salle University standout, set the single-game high scoring mark for Division I basketball this season. Wisconsin's Frank Kaminsky scored 43 on Nov. 19.

He also set the all-time records for points scored against Temple and points scored at the Liacouras Center, Temple's home arena which opened in 1997.
A.G.G.T.G!!!! All Glory goes to God!!! #WVUALUMNI #TexasSouthernProud #Philly #WestVirginia… http://t.co/vVS1sEybOb
— Aaric Murray (@aaricmurray24) December 19, 2013
//platform.twitter.com/widgets.js
"I'm really proud of him," Texas Southern head coach Mike Davis. "We probably need to play all of our games in Philadelphia."

Murray, who came into the game averaging 22.2 ppg, wasn't just gunning against Temple. He hit 20 of 28 shots from the field.