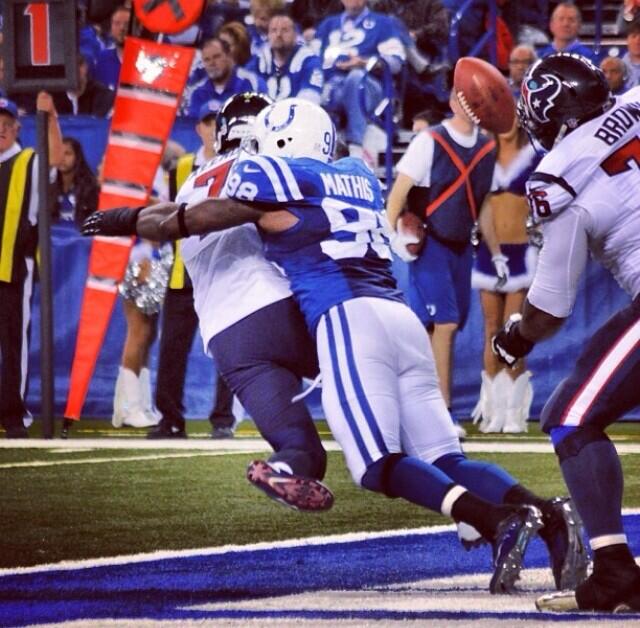 Playing in the shadows of Peyton Manning and now Andrew Luck, Robert Mathis has quietly put together a great career. The former Alabama A&M star has had a coming out party this year, however, as he has held the league lead in sacks for most of the season.
Mathis added another sack in today's 25-3 win over Houston. The sack gave him 16.5 for the season, which breaks Dwight Freeney's club marks for both single-season and career (107.5). Not only has Mathis put up Hall of Fame type numbers, he's also earned the respect of his teammates.
Robert Mathis has set both the @Colts single-season and career record for sacks. He has 16.5 this season, 108 for career
— ESPN Stats & Info (@ESPNStatsInfo) December 15, 2013
//platform.twitter.com/widgets.js
Colts quarterback Andrew Luck was even less restrained. "He's everything you could ask for in a leader, in a locker room guy, in a veteran, the example he sets, his work ethic," Luck said. "I feel honored to just be in the stadium and to get to see that happen and be able to give him a high five."  
What you're hearing here are the voices of unabashed admiration. There isn't a man in the Colts locker room who gives more effort or commands more respect.  
 "He is class personified," Colts inside linebacker Jerrell Freeman said. "He's a living legend. It's an honor to play on the same field with the guy. I grew up watching him. Now I get to play with him and hopefully he sticks around for a while."