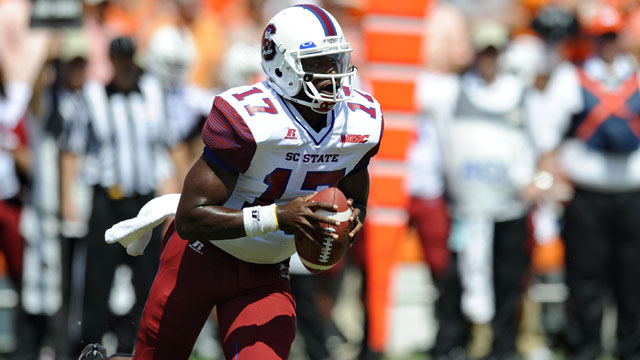 SC State's five-game winning streak has them looking like a legit FCS playoff contender. (ESPN photo)
As we enter Week Eight of the FCS football season, the playoffs creep nearer with every snap. For HBCUs, the FCS playoff system is often viewed with a mix of optimism and disappointment. If you are a consistent reader of this blog, you know that no HBCU has won an FCS playoff game in this century.
With the SWAC opting out of the playoffs since 1999, the burden of winning usually falls solely on the winner of the MEAC. This year, however, things could be different. With the expanded 24-team playoff field there is a chance that we could see at least two, if not three, HBCUs in the FCS playoffs in 2013. That hasn't happened since 1999, when Florida A&M, NC A&T and Tennessee State all made the playoffs.
Some teams have already eliminated themselves, (ahem, NC A&T) while others are still in the running for at-large bids, if they don't win their conference championships outright. At 5-1, Bethune-Cookman looks to be the front-runner in the MEAC. Meanwhile in the Ohio Valley Conference, Tennessee State has won six straight since dropping its opener to BCU. The third team in the mix is South Carolina State, who currently have a record of 5-2, with losses only to FBS superpower Clemson and nationally ranked Coastal Carolina.
The Sports Network released its projections earlier this week, including all three teams in an adjust 25-team format, having SC State participate in a "play-in" game in Dayton, OH. The other matchups include Wofford at Bethune-Cookman and Tennessee State against Chattanooga.
Looks pretty good to us. Tennessee State still to win in a competitive OVC while SC State and Bethune-Cookman will go head-to-head next week in a showdown that will serve as the de facto MEAC playoff game. Buckle your seatbelts, folks.