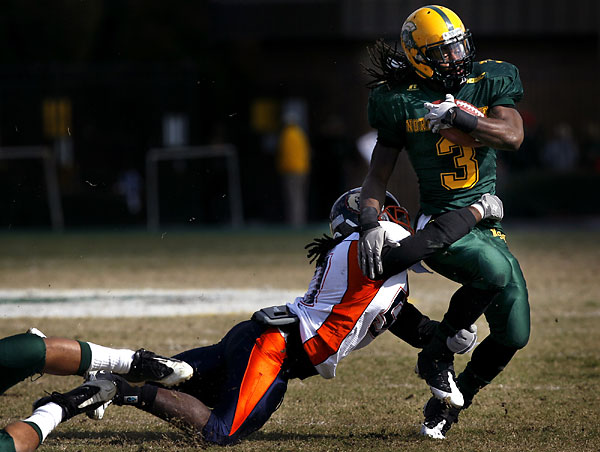 Norfolk State picked up its first win of the season against Morgan State on Saturday. (HamptonRoads.com photo)
After an eventful two weeks that saw the MEAC look like world-beaters one week and doormats the next, Saturday was pretty low key. Conference play officially kicked off on Thursday with NC A&T coming away with a 27-19 win against Howard on ESPNU. With that game in the books in addition to bye weeks for Bethune-Cookman, FAMU and NC Central, there were just four games on the conference slate.
Both Norfolk State and Morgan State entered Saturday's contest winless after the season's first month, but actually ended up being a pretty good game of evenly matched teams. While several Norfolk State players had their best games of the season, linebacker Lynden Trail was the unquestioned star of this game. The 6'7 LB-DE was a beast on defense, recording six tackles and picking off two passes. He also caught a touchdown pass from Tyler Clark, putting on a show for the 856 fans in Hughes Stadium.
The conference had another close matchup down in Savannah, as both Delaware State and Savannah State hoped to put frustrating non-conference games behind them. It was a game of big plays, as all but one touchdown came from at least 20 yards out. DSU looked to have the game solidly in hand with a 24-9 win early in the fourth quarter before Savannah State attempted a late rally. It was too little, too late as DSU emerged with a 24-22 win.
"@HBCUGameday: I have a feeling this DSU-Savannah State game might help SSU pick up its first D1 win since '11" <- pic.twitter.com/n1PYJeFl2q
— Tiffani Sykes (@SugarSpiceSport) September 28, 2013
//platform.twitter.com/widgets.js The non-conference portion of the season was rough for Hampton, but it would find no respite in Orangeburg. South Carolina State breezed past Hampton 30-6 in its final tuneup before the Atlanta Classic against A&T next Saturday.
"@KiD_HeaRTleSS: @HBCUGameday @crimson8cream Rose gotta go" pic.twitter.com/HLYOgSo57j
— HBCU Gameday (@HBCUGameday) September 28, 2013
//platform.twitter.com/widgets.js