Sophomore Kwashaun Quick has emerged as a contender for the A&T quarterback job. (NC A&T photo)
North Carolina A&T: Last season NC A&T finished with its best season since 2003 with less-than-stellar quarterback play. Lewis Kindle started most of the team's games, but threw for just three touchdowns while tossing 11 interceptions. Still the senior appeared to be the favorite until off-the-field problems got him suspended from the team in July. Kindle is back with the team now, but that doesn't mean his spot is safe. Here are the contenders:
*Lewis Kindle, senior has a 10-10 record as a starter
*Kwashaun Quick, started four games as a freshman last season, throwing one touchdown and four interceptions
*Jordan Dawson, the true freshman from Cary, NC is the son a 10 year NFL vet
*Oluwafemi Bamiro, this DC product redshirted last season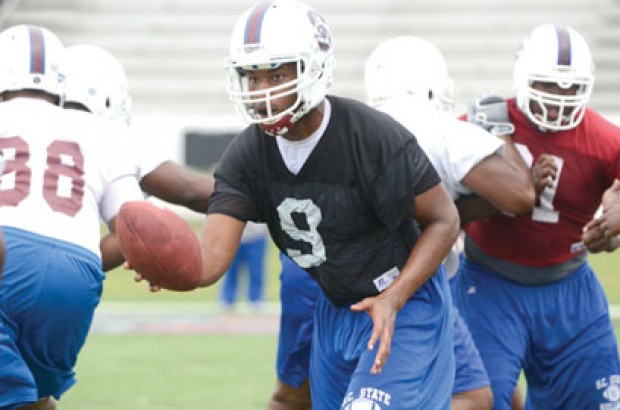 Tedarius Wiley has emerged as a challenger to Richard Cue as SC State quarterback. (TheTandd.com photo)
South Carolina State: South Carolina State was picked to finish second in the MEAC at the annual media day, but that doesn't mean the Bulldogs will play it safe. Last year the team struggled with consistency, finishing 5-6 in 2012. No one was more inconsistent than quarterback Richard Cue. Cue has spent the last few days splitting time with Tedarius Wiley. Three weeks away from the start of the season, head coach Buddy Pough says he doesn't know who will start for SC State, but he anticipates both quarterbacks will get their chance in live action.
"As far as the actual battle between the two, I kind of think that we're going to probably end up playing two. I really do. We've just got to figure that out. That's a hard thing to do, but we've got to figure it out because I believe both of those guys deserve to play."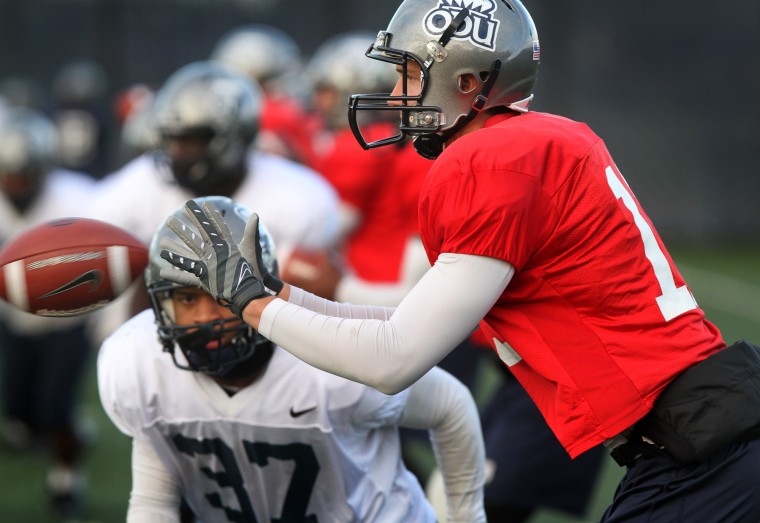 Tidewater native Tyler Clark transferred from Old Dominion to Norfolk State. (HamptonRoads.com photo)
Norfolk State: Last season quarterback play was a big problem for NSU as Spartan quarterbacks combined to throw 21 interceptions. Nico Flores, last season's leading passer, is academically ineligible, so that means someone will have to emerge as the starter. Norfolk State has some talented playmakers on the offensive side of the ball, so quarterback play could propel this team towards the top of the MEAC, or keep it near the bottom. The candidates for the job are:
*Tyler Clark, a 6'6 lefty transfer from Old Dominion
*Malik Stokes, a dual threat transfer from Bowling Green,
*Omari Simmons, a former JUCO QB
Coatesville (PA) High product Emmett Hunt is one of four players vying to start at quarterback for Delaware State this fall. (DailyLocal.com photo)
Delaware State: The Hornets have the unenviable task of replacing Nick Elko, the reigning MEAC Offensive Player of The Year at quaterback. DSU head coach Kermit Blount says the competition is still open. Whoever winds up the starter, they'll be working with a crew of receivers vastly different than the group Elko had. The candidates for the job are:
*Cory Murphy, a former JUCO star who served as Elko's backup last year
*Esayah Obado, passed for 3,690 yards and 42 touchdowns in his prep career
*Emmett Hunt, the 6-2, 210-pound Hunt threw for 3,113 yards and 44 TDs as a high school senior
*Garrison Duncan, passed for 1,510 yards, rushed for 1,405 and accounting for 34 touchdowns as a senior at East Forsyth HS
Jaylian "J.J." Williamson is one of the players hoping to start at quarterback for the Pirates. (Daily Press photo)
Hampton: 2012 was another down year for Hampton, and inconsistency at the quarterback position played a big role in that. Last year's leading passer, Travis Champion, passed for just eight touchdowns while throwing 11 interceptions before leaving the program. Here are the candidates to replace him.
*Brian Swain, a 6'0 sophomore who is also the team's leading returning rusher
*Jaylian Williamson, the 5'10 sophomore pulled of a win in his lone start of the 2012 season against Savannah State.