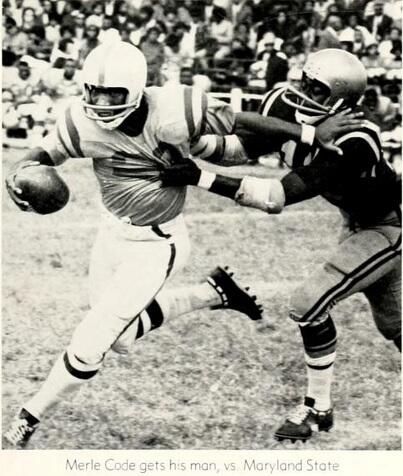 College football is more popular than ever these days, and seemingly more teams are getting into it every year. Though new programs at majority institutions like UNC-Charlotte and Old Dominion are getting a lot of attention, several HBCUs have added football in the past decade.
Shaw University restarted its football program in 2002, and quickly became a dominant force in the CIAA, winning four titles in its first decade. Crosstown rival St. Augustine's added football that same year, and the Falcons continue to be a factor in the tough CIAA Southern Division. Both Lincoln (MO) and The Lincoln University have revived their programs in the last fifteen years as well. Next year, Paine College start participating in SIAC football.
So with that, here's our list of five HBCUs we'd like to see get back into college football.
UMES had a football powerhouse in the 60s and 70s. Hoops was up there with Maryland. Title IX ruined both.
— Ben Drillingher (@thelibraicon) August 9, 2013
//platform.twitter.com/widgets.js1. University of Maryland-Eastern Shore
Many of the students roaming The Campus Formerly Known as Maryland State may not know this, but once upon a time, UMES was a football power. The Hawks recorded five undefeated seasons between 1947 and 1960, winning CIAA titles three times during that span. They produced 24 professional players over the course of their program's history, the most famous of which is former Oakland Raider and Pro Football Hall of Famer Art Shell.
UMES left the CIAA to help form the MEAC in 1970. A decade later, it killed its once-thriving program. As late as last year, there was talk of reviving the program. But the university decided it would not pursue an NCAA-regulated team at this time. UMES does, however, have a club fooball team.
Fielding a competitive team has gotten much more expensive since UMES played its last down. Supporting the necessary number of scholarships for a competitive team, paying a coaching staff and building or renting a facility would easily cost millions of dollars. The financial realities of Division I football make the rebirth of this program seem very unlikely.
2. Morris Brown College

Of all the schools on this list, Morris Brown was the most recent to end football, cutting its program in 2003. The Wolverines were a moderately successful program, winning four SIAC championships and producing 14 pros, including defensive end Donte Curry and defensive back Nick Ferguson.
While it would be fun to have them back, the reality is that Morris Brown is fighting just to stay alive. First things, first.
3. Fisk University
One of the nation's most respected HBCUs academically, Fisk also has a successful history on the football field as well. The Nashville, Tenn. based school won four SIAC championships and produced four NFL players before ending in 1983.
Granted the school is rather small, but that hasn't stopped Paine from adding football.
4. Wiley College
Wiley was one of the founding members of the SWAC in 1920. In fact, Wiley won the first SWAC title in 1921, and finished with a total of ten before leaving the conference and ending football in 1968.
Wiley is one of several Texas HBCUs with defunct football programs. But its NAIA status makes it much easier for it to come back than Division I UMES.
XULA: undefeated since 1954 RT @HBCUGameday #HBGDQO Which currently defunct HBCU football program would you like to see resurrected?
— That Girl Tam (@DaRealyestJones) August 8, 2013
//platform.twitter.com/widgets.js5. Xavier University of Lousianna

Xavier didn't have the greatest experience the first time around, winning just one SIAC championship in 25 years, but football is almost religion in Louisiana. Plus, with a name like Gold Rush, Xavier is bound to have some innovative uniforms.