As much as the some folks would have you to believe otherwise, big-time college athletics is all about the money. The higher up in competition you go, the more you have to spend to stay competitive.
The schools at the top of the food chain have cash to spend, and like to do so on easy non-conference wins. Why risk losing to an opponent you aren't familar with when you can get away with eating a cupcake and getting some live reps for your backups?
The schools at the bottom need cash. They need it to build facilities. They need it to increase the scope of their recruiting efforts. Hell, some of them need it just to stay afloat.
So in that great capitalistic law of supply and demand, somewhere along the way came the bright idea of "money games." Here are five HBCU money games that could get ugly in 2013.
Terry Johnson and the Rattlers have their hands full against Ohio State in September. (FAMU photo)
Florida A&M at #3 Ohio State, Saturday, Sept. 21

Payday: $900,000
Florida A&M and Ohio State are two storied college football programs, who do have some tie-ins. Legendary FAMU coach Jake Gaither received his masters degree from OSU in the '50s, and Buckeye legend Woody Hayes sometimes collaborated with Gaither at coaching clinics. Both teams also have national championships to their credit, OSU claiming seven national titles while FAMU has 10 Black College Championships and a 1978 D-I AA title.
Despite their shared history of greatness, there's little reason to believe this game will be anything less than a resounding victory for OSU. The Buckeyes enter the 2013 season as a legit threat to win the BCS National Title, while the Rattlers are hoping to rebound a seventh-place MEAC finish.
After opening the season against Mississippi Valley State, which could be a more competitive game than many people think, FAMU has three tough out of conference games against Tennessee State and Samford. Second year head coach Earl Holmes will have his resolve tested early as his team faces the grim possibility of being 1-3 by the time MEAC play starts.
Bottom line: If the Rattlers keep it respectable early, a three touchdown loss is probably the best they can hope for.
Savannah State lost 56-0 to Florida State in 2012. (AP Photo)
Savannah State at Miami, September 21
Payday: $375k
Last year Savannah State became the poster child for pimping the "money game" system, as SSU lost to Oklahoma State and Florida State by a combined score of 139-0 in less than two full games. This season's slate of non-conference action isn't quite as ambitious, although no one expects for them to beat either Georgia Southern or Troy.

Miami was predicted to win the ACC's Coastal Division, while at Savannah State, not to be picked last at the MEAC's upcoming media day would be a big win. Newly hired Savannah State coach Earl Wilson, the team's third coach in four years, hopes to implement his Air Raid offense this year. The only problem is Savannah State's quarterbacks completed just over 41 percent of their passes, throwing 10 touchdowns to 15 interceptions. If I'm a Miami defensive back, I'm planning on this game to pad my stats.
Bottom line: Losing by anything less than 50 points is a win. Cash the check and run.
Tahj Boyd and Clemson are favored to win the 2012 ACC title. (SI.com photo)
South Carolina State at Clemson, Sept 7
Payday: $275k
Clemson and South Carolina State are separated by 168 miles geographically, one division in NCAA classification and decades of history. SC State was originally scheduled to play the other in-state FCS school, South Carolina, but an SEC scheduling conflict opened the path for Clemson to jump in. The two teams have met only once before, back in 2008 when Clemson blanked SC State 54-0. The bad news is that this Clemson team is better than the previous version SC State faced, while Buddy Pough's squad doesn't look to be up to the level of his 2008 squad that won the first of three consecutive MEAC championships.
Clemson quarterback Tahj Boyd was named the preseason ACC Offensive Player of The Year earlier this week. His counterpart, SC State's Richard Cue failed to complete 50 percent of his passes in 2012.
Bottom line: The Bulldogs should be better this year, but in this game it won't matter.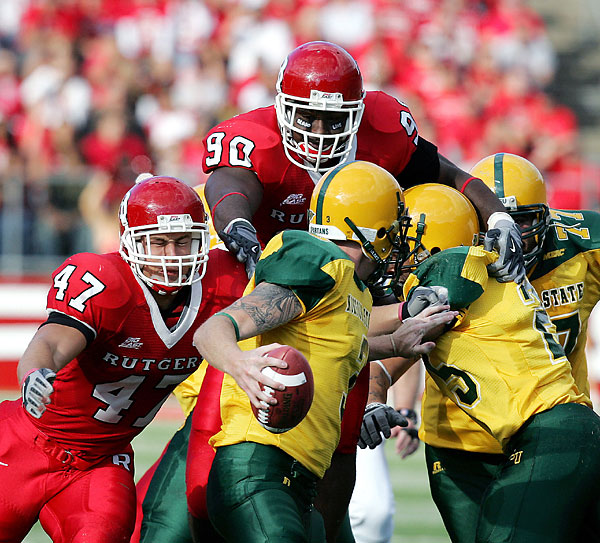 Norfolk State has been outscored 90-0 win its two meetings with Rutgers. (Hampton Roads.com photo)
Norfolk State at Rutgers, September 7
Payday: N/A

When Norfolk State and Rutgers meet in New Jersey this fall, it will be the third time in six season that the two schools have squared off. Norfolk State lost those two games by a combined score of 90-0. This year a Norfolk State team with a bad passing game will face off against a Rutgers squad expected to compete for the inagural American Athletic Conference Championship. The Spartans have some of the more gifted players in the MEAC, running back Brendon Riddick, defensive lineman George Riddick and edge rusher Lynden Trail, but history shows that still won't be enough for NSU to upset Rutgers.
Bottom line: Based of last season, and previous history, scoring would be a step up for NSU against Rutgers.
Quentin Williams and Bethune-Cookman are looking for their third MEAC championship in four years in 2012. (AP Photo)
Virginia Union at Bethune-Cookman, Sept. 7

Payday: N/A

This was originally intended to be a cash-cow for Bethune-Cookman, as they were set to take on the University of Central Florida. But UCF cut out of its contract with BCU to play Penn State this spring, action had to be taken soon. While both teams are private HBCUs, that's about all they have in common on the football field. BCU is the defending MEAC champion, while VUU is a middle-of-the-road CIAA team. BCU returns most of its key players, including quarterbacks Quentin Williams and Broderick Waters. It also boasts the MEAC's best running back (Isidore Jackson) and several defensive players with pro potential. Union, meanwhile lost its leading rusher and three pro prospects on defense.
Bottom Line: Bethune-Cookman gets a tune-up and Virginia Union gets a trip to Daytona Beach.