Now that we've taken a look at the top returning players in HBCU football, next we'll take a look at the newcomers who could have a big impact in 2013. Today's focus is on the MEAC.
Justin Taylor, South Carolina State
Former Kentucky running back Justin Taylor will try to resurrect his career at South Carolina State after redshirting at Kentucky. (TheTandD.com)
The 2012 season is one they'd like to forget down in Orangeburg. South Carolina State recorded its lowest finish in nearly a decade, and the rushing game ranked in the bottom half of the MEAC. Add to that the fact that Jalen "Scoot" Simmons, last season's leading rusher, is expected to miss the entire season with a shoulder injury, and the Bulldogs were in dire need of a pick-me-up at running back this season. Meanwhile, former Georgia prep star running back Justin Taylor was struggling with a regime change at Kentucky after redshirting his freshman season. And thus, you have what both parties hope is a perfect match. While known more as a bruising-type back, the 5'10, 217 pound Atlanta native said he's added more speed since he left high school. For MEAC defensive coordinators, that has to be a scary thought.
VAUGHTS VIEW: Freshman running back Justin Taylor granted release from Kentucky http://t.co/hb3fOZa0bK #BBN
— UKWildcatSports (@UKWildcatSports) May 7, 2013
//platform.twitter.com/widgets.js

Dumont Buice, Florida A&M
Dumont Buice will bring ACC-calibert talent to the Florida A&M running game this season. (SBNation.com photo)
FAMU will be Buice's fourth team in four years, but both the player and the school are hoping this is a match that fits. Boice originally signed with Clemson after a stellar high school career in Alabama. He transferred from Clemson after just one season, heading out west to play JUCO ball in Arizona. FAMU finished in the bottom half of the MEAC in rushing yards, while running for just eight touchdowns all season, tied with Savannah State for the worst in the conference. Look for this 6'1, 220 pound back to help push that number forward this season. Another new Rattler to keep an eye on is freshman Victor Love. The 6'5, 175 pound freshman from Orlando played just one season of high school ball, but it was enough to earn him an offer from FAMU.
Brandon Walker, Norfolk State
Brandon Walker was a big-time force on LC Bird's championship run. (Times-Dispatch photo)
This is a case of the rich getting richer. Norfolk State led the FCS in pass defense in 2012, then signed three capable safety prospects, including Walker. At 6'3, 200 pounds, Walker has the size to help him get his hands on a lot of balls, just as he did at L.C. Bird High. His number last season were just staggering: 92 total tackles, 16 tackles for loss, 12.5 sacks, four forced fumbles, two fumble recoveries, six interceptions and 10 pass deflections. Most importantly, however, he came up with a game-clinching tackle on fourth down to help lift his team to a championship.
LC Bird DB Brandon Walker makes a huge stop on 4th & 1 in the final minutes of the VHSL Div 6 final – http://t.co/Y7FGIMr0
— playonsports (@playonsports) December 8, 2012
//platform.twitter.com/widgets.jsXavier Griffin, NC A&T
Griffin originally committing to North Carolina State out of Newark (DE) High, but failed to qualify academically. After a year at Fork Union Military Academy, Griffin signed with NC A&T this spring. At 6'2, 190 pounds, Griffin provides A&T with a big target to help improve a passing game that picked up just four touchdowns through the air.
Paul Robertson, Hampton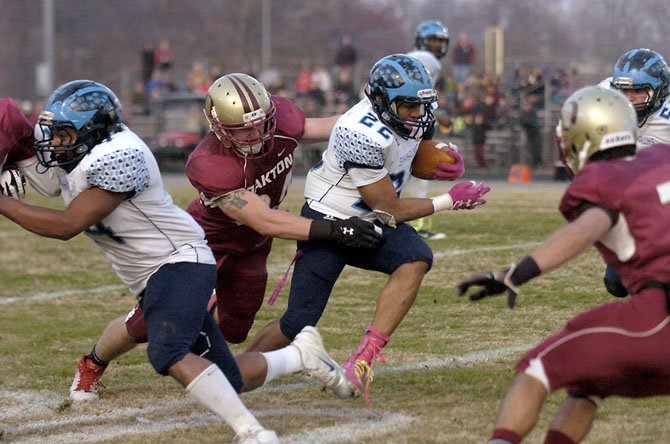 Robertson had to wait three years to find a starting spot at LC Bird, but when he did, he made the most of it. Robertson rushed for 2,935 yards as a senior, including over 1,400 in the playoffs alone. With last season's leading rusher Jeremiah Schwartz gone, look for Robertson to see significant time in Hampton's backfield, especially with an unsettled quarterback position.