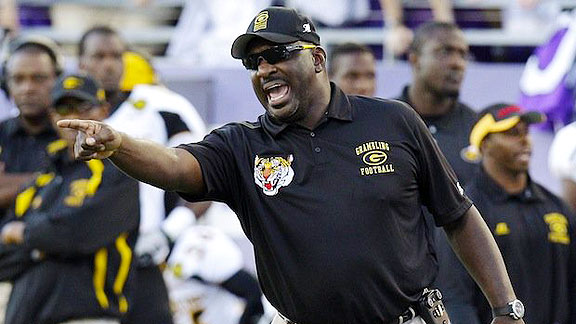 Grambling State head coach Doug Williams is hoping to improve on a 2012 season that saw Grambling sink to the bottom of the SWAC. (ESPN.com photo)
Its been a fast-paced 24 hours at Grambling State, and there could be more news to come. Days after being fired and hours after news of a change at the top of the athletic department, Grambling announced that two assistant football coaches have their job back. Jason Pough of the Shreveport Times reports that Kalvin Pearson and Ben Wilkerson have been reinstated as assistant coaches under Doug Williams. Grambling spokesman Will Sutton tweeted that his followers should watch for more news in the coming days.
Grambling football coaches reinstated http://t.co/Z2QVJnGv6x #GramFam, watch 4 more news in the coming days. @HBCUDigest @HBCUConnect #HBCU
— willsutton (@willsutton) July 2, 2013
//platform.twitter.com/widgets.jsPearson and Wilkerson were both informed last Thursday that they were no longer a part of the staff. Pearson coached the offensive line and Wilkerson worked with both defensive backs and special teams. Williams talked about how much the reinstatement will mean to his team.
"For me, it's been a tough weekend, knowing since Thursday that Ben and Pearson had been released from the staff," Grambling head coach Doug Williams said. "Both of them are important, but when you talk about your offensive line coach, it's hard to make adjustments. How can you go out and perform as a football team without your offensive line coach? (Their reinstatement) is a blessing."
Grambling has a SWAC record 23 conference titles, but finished just 1-10 last season, going winless in the SWAC. The Tigers finished third from the bottom in SWAC rushing, running for just 2.8 yards per carry. They also finished last in pass defense efficiency.