As we prepare for the 2013 football season, we're taking a look at the best returning HBCU players at each position. Today, we check out the top defensive backs in the MEAC.
D'Vonte Graham, North Carolina A&T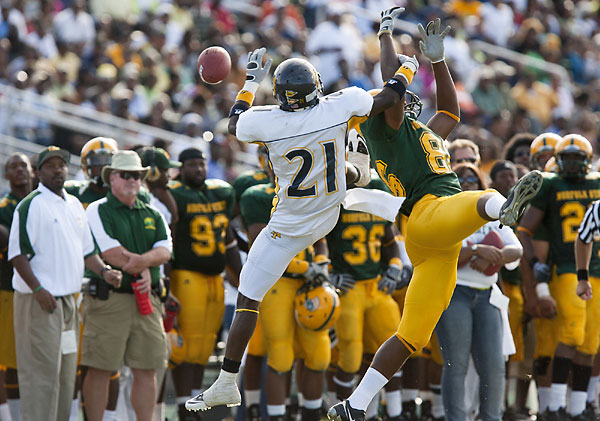 D'Vonte Graham helped make NC A&T a top ten defense against the pass.
(Hamptonroads.com photo)
Graham blew onto the scene in 2010 with an impressive sophomore campaign that saw him pick off seven passes. He ended up sitting out the 2011 season for personal reasons, but came back in a big way in 2012. Graham broke up 12 passes in 2012, including four interceptions, as the A&T defense finished sixth in the FCS in pass defense, and second overall. Graham was named first team All-MEAC for his efforts in 2012 and will enter the season as a candidate for the conference's defensive player of the year.
D'Vonte Graham brings out a missed field goal and scorches Norfolk State for a 100-yard touchdown return … Aggies 7, Spartans 6.
— Garry D. Howard (@SN_GarryD) October 27, 2012
//platform.twitter.com/widgets.js

DaVon Moore, Delaware State
Hits like this one will have receivers thinking twice about going up against DSU's Davon Moore. (News Journal photo)
Moore is everything you want a defensive back to be. At 5'11, 195 pounds, Moore brings the pain to running backs and wide receivers, as we see above, and is equally adept at pass coverage. The numbers speak for themselves: 97 tackles, four interceptions, three forced fumbles as a sophomore en route to All-MEAC First Team honors. Woe to those receivers who try to go across the middle of the Hornet defense for the next two seasons.

Nick Addison, Bethune-Cookman
Though just a sophomore in 2012, Addison has already established himself as one of the leaders of Bethune-Cookman's defense. Addison finished with 68 tackles and broke up 11 passes for the MEAC Champs. He also picked off four passes, returning an interception against Hampton into a 90 yard touchdown. At 6'2, 180 pounds Addison has the potential to follow the footsteps of former Wildcat DBs Rashean Mathis and Nic Collins into the NFL.
Joe Rankin, Morgan State
Morgan State allowed the most passing yards in the MEAC last year, as their opponents put up over 225 yards per game. Those numbers would be even worse if not for Rankin, who broke up 11 passes in 2012. Five of those turned into interceptions, and one into a touchdown. Rankin, along with CPFA nominated defensive end Chris Robinson give Morgan State fans hope that they could be the Cinderella team in the MEAC this fall.
Julien David, Howard
Like NC A&T, Howard had a resurgent year in 2012, thanks mostly to its defense. David was a big part of that, stuffing the run and battering receivers from the safety position. David lead the MEAC with 108 tackles. He also broke up eight passes, including one interception. Bringing back David, as well as talented defensive line and linebacking corps, means Howard will once again
Notables:
Travis Crosby, NC A&T
Joe Wilson, Savannah State
Keenan Lambert, Norfolk State