As we prepare for the 2013 football season, we're taking a look at the best returning HBCU players at each position. Today, we check out the top defensive linemen in the MEAC.

Damon Gresham-Chisholm, Howard University
Whether stuffing the run or rushing the passer, Gresham-Chisolm was simply spectacular last season. The freshman led the league with 18 tackles for loss, finishing fourth in the nation. He also added five quarterback sacks while forcing and recovering three fumbles. And his defense needed every one of them as the Bison finished near the bottom third of the MEAC in most defensive categories. Still, with three more years of eligibility remaining, Gresham-Chisholm alone makes the Howard defense one to watch.
LeBrandon Richardson, Bethune-Cookman
Last season was Richardson's first in the MEAC, but he quickly established himself as one of the premiere defenders in the conference. The Miami native recorded 8.5 sacks in his first season, tying for the conference lead after transferring from UCF. The offense might get most of the headlines at BCU, but Richardson and the defense will be just as important as the Wildcats look to repeat as conference champions in 2013.
George Riddick, Norfolk State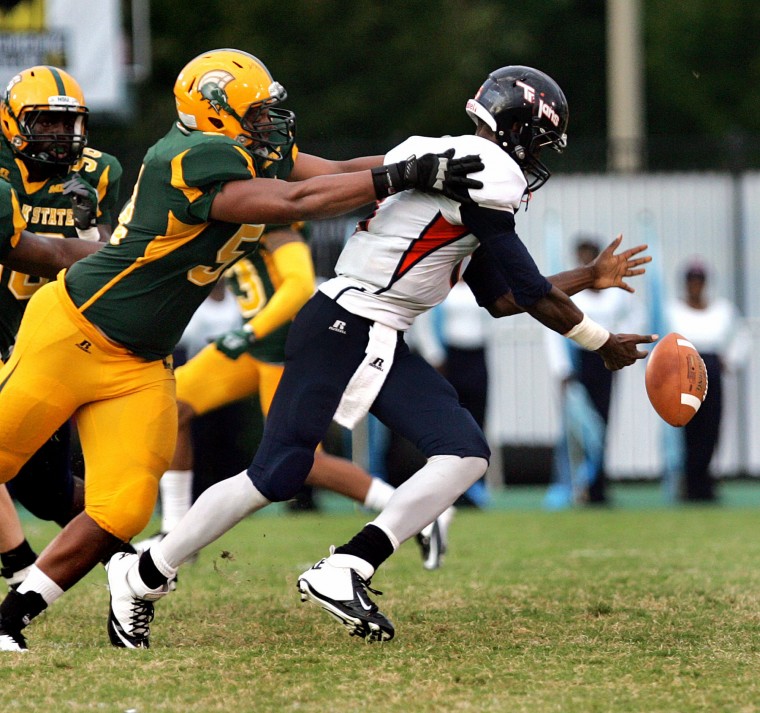 While linebackers Jamal Giddens and Lynden Trail received the brunt of the attention for Norfolk State's defense, George Riddick quietly put together a solid season at defensive tackle. At 6'3, 290 pounds, Riddick has attributes that pro scouts desire. He also has the production to match, finishing with 40 tackles, nine for loss. He also added 5.5 sacks, three of which came against Savannah State near the end of the season. With talented players like Giddens, don't expect Norfolk State to stay in the bottom half of the MEAC for long.
Chris Robinson, Morgan State
Robinson tied Richardson for the conference lead in sacks with 8.5, though he played in three games less than Richardson. Unlike his fellow Miami native, however, Robinson was left off the All-MEAC team completely. His work did not go unrecognized, however, as he was just named to the College Football Performance Awards watch list for 2013.
Rodney Gunter, Delaware State
The Delaware State offense soaked up the spotlight for Delaware State, but opposing quarterbacks and offensive linemen definitely know Rodney Gunter's name. The 6'5, 300 pound lineman was all over the field as a sophomore, making 49 tackles, including nine behind the line of scrimmage. He also added five-and-a-half sacks, to lead Delaware State en route to second-team All MEAC honors.