As we prepare for the 2013 football season, we're taking a look at the best returning HBCU players at each position. Today, we check out the top receivers in the MEAC.
Lenworth Lennon, FAMU
Lennon started off the season slow, catching just two passes for 28 yards in a season-opening loss to Tennessee State. That would be the low mark of his season, however, as he would catch at least six passes in every other game of the season. He finished with 71 receptions, second highest in the conference and the most of any returning player. The 5'10, 175 pound Ft. Lauderdale product did most of his damage in small doses, as he averaged less than ten yards per catch. Still, he is a dependable target, one that quarterback Damien Fleming will again rely on with the loss of Travis Harvey.
Damien Fleming throws beautiful TD pass to Lenworth Lennon…#FAMU 7 Howard 0
— Curt (@TheSilentGiant) October 6, 2012
//platform.twitter.com/widgets.js Simon Heyward, Savannah State
Let's be honest: It's hard to get respect playing football for Savannah State right now. Not just nationally, but even within the MEAC. But just look at the numbers: Heyward caught 44 passes as a junior on a team that completed just over 40 percent of its passes. Also, six of the team's 10 passing touchdowns went to him. Add in his 17 yard per catch average, and it's easy to make the case that he is the one of, if not the best receiver in the MEAC heading into 2013.
Tyler McDonald, SC State
The story of McDonald's season is the story of the 2012 South Carolina State Bulldogs. McDonald opened the season with a strong performance, catching two touchdowns in the team's dominating win over Georgia State. McDonald would go almost another two months without catching another touchdown pass. He finished off the season strong, however, catching 11 passes for over 250 yards and two touchdowns. If quarterback Richard Cue's performance improves, however, the 6'3 190 pound senior could be one of the better targets in the MEAC.
Derrick Demps, Norfolk State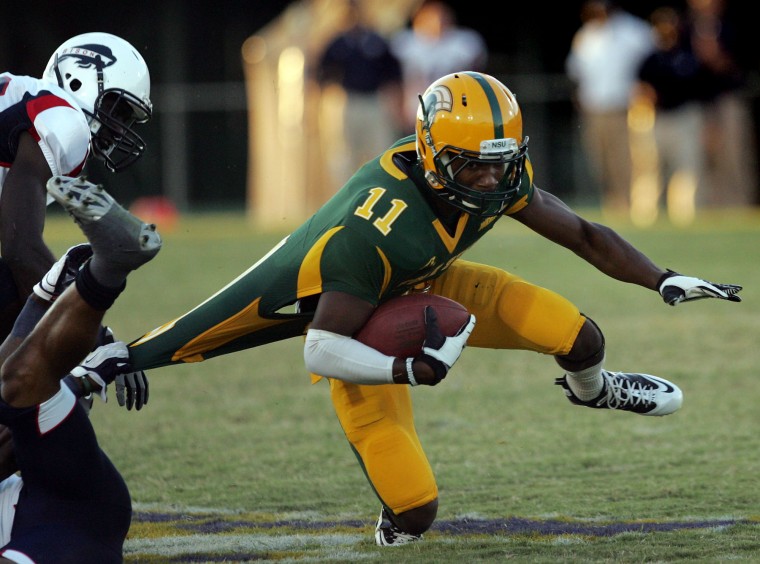 Demps is the perfect example of how quarterback play can help or hurt a receiver's career. Demps was a big time deep threat as a sophomore in 2011, averaging 21 yards per catch and helping Norfolk State win its first-ever MEAC championship. But the quarterback play for Norfolk State was spotty at best, and at times just bad in 2012. Still, Demps managed to catch 42 passes for over 500 yards playing opposite Xavier Boyce. With Boyce gone, Demps now becomes the unquestioned top target for NSU. The question is, who will throw it to him?
Cine: Nsu Football drillscinemagr.am/show/39970934 #NsuFootball #Derrick #Demps #Coach #Privott
— Natturner Harris Jr (@FLYguyNAT) November 8, 2012
//platform.twitter.com/widgets.js Marquis Gorham, NC A&T
As with Demps at NSU, Gorham excelled at NC A&T despite poor quarterback play. The diminutive freshman from Greenville, NC was one of the few bright spots for A&T's passing game. The Aggies threw four times as many interceptions (16) as they did touchdowns. Despite the inefficiency of the passing game, Gorham caught 38 passes for 391 yards and two touchdowns. He also showed potential as a kick returner, averaging better than 30 yards on three return attempts.


http://ad.doubleclick.net/adi/N7433.148119.BLOGGEREN/B6723627.3537;sz=320×320;ord=%5Btimestamp%5D?;lid=41000613802463289;pid=1469911;usg=AFHzDLv5Wx1iYlajIU5ZycZ8hoGeEBJadg;adurl=http%253A%252F%252Fwww.drjays.com%252Fshop%252FP1469911%252Ftradition%252Fnorth-carolina-at-varsity-jacket.html%253Fgwc_h%253Dgooglebase;pubid=581878;imgsrc=http%3A%2F%2Fmediaext.djnetworks.net%2Fmedia%2F112%2F369%2Ffiles%2F11236992.jpg;width=256;height=320