This is the four in a series examining the top players at each position for HBCU schools and conferences. Today we're taking a look at the top returning quarterbacks in the Mid-Eastern Athletic Conference (MEAC).

Damien Fleming
Florida A&M had a down year last season, but that wasn't due to quarterback play. The 6'3, 180 pound quarterback led the MEAC in touchdowns (16) and finished second in completions, attempts and yards while completing nearly 70 percent of his passes and throwing just five interceptions as a sophomore. He will be without Travis Harvey, who lead FAMU with seven touchdowns, but leading receiver Lenworth Lennon will be one receiver he can count on. With two more seasons of eligibility remaining, Fleming will be key to the Rattler's rebuilding efforts under new head coach Earl Holmes. It'll be fun to see what new offensive coordinator Quinn Gray has in store for his protegee.
@hbcugameday He is special, i am a big fan
— Damond Talbot(@drocksthaparty) May 9, 2013
//platform.twitter.com/widgets.js
Quentin Williams, Bethune-Cookman
Williams entered last season as one of three candidates for the starting spot in Daytona Beach, and spent most of the first third of the season sharing snaps. By the end of the season, however, he assumed on-the-field control of the Wildcats, helping them claim the MEAC title. Williams doesn't throw it too often, but when he does he's accurate (60 percent completion percentage), and rarely goes gets picked off, as he threw 11 touchdowns to just 2 interceptions. With two of BCU's top three rushers from last year gone, head coach Brian Jenkins should feel secure with Williams under center.
Jordan Reid, North Carolina Central
It's been a long road for Jordan Reid, but the redshirt senior looks like he'll finally start a season as his team's definitive starting quarterback. Since transferring to North Carolina Central from Winston-Salem State after a redshirt freshman season, Reid has shown flashes of solid play, but his playing time hasn't been consistent. Last season Reid started as the backup to transfer Matt Goggans before assuming the starting role, and leading the team on a four-game win streak, putting NCCU near the top of the MEAC for the first time since their return to the conference. Reid completed over 62 percent of his pass attempts, and was one of the few quarterbacks in the conference that threw more touchdowns (13) than interceptions (12).
Heading into last season as the reigning MEAC Rookie of The Year, much was expected of Greg McGhee in 2012. Ultimately the preseason-pick for All-MEAC quarterback did not live up to expectations, even though Howard had its best season in over a decade. McGhee was one of fourteen players suspended for NCAA violations to start the season, and never regained his freshman form. He completed less than 50 percent of his passes while throwing just three touchdown passes. He did lead Howard in rushing touchdowns, and finish third on the team in yards. The challenge for McGhee this season: improve his play during the absence of coach Gary Harrell.
Howard University QB Greg McGhee relishes return to starting lineup: wapo.st/VaZs5g #Bison
— Eric Detweiler (@edetweiler) October 18, 2012
Richard Cue, South Carolina State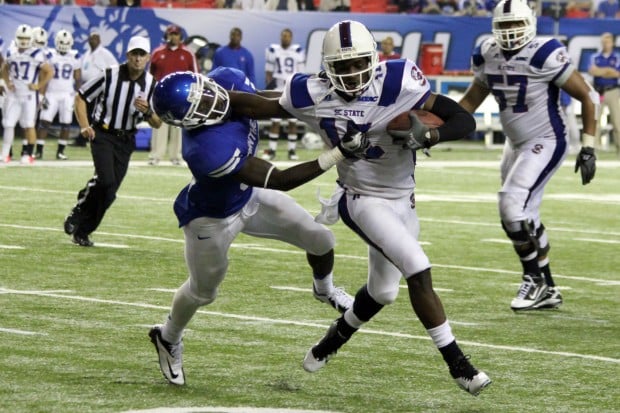 Let's be clear: Richard Cue has as big a ceiling as any of the quarterbacks on the list. The problem is, you never know which Richard Cue will show up. Cue looked like an all-conference quarterback in games against Georgia State and Howard, as he threw for nearly 900 yards and seven touchdowns to just three interceptions in those games. Then there were games against Bethune-Cookman, Norfolk State and NC A&T where he failed to throw for a touchdown while throwing five interceptions. His bio on the South Carolina State athletic page says it all: "Has good ability, but the coaching staff is searching for more consistency."
Related Posts
Scouting The SIAC: Quarterbacks
Scouting The SWAC: Quarterbacks
Scouting The CIAA: Quarterbacks
http://ad.doubleclick.net/adi/N7433.148119.BLOGGEREN/B6723627.3883;sz=300×250;ord=%5Btimestamp%5D?;lid=41000613802463289;pid=1429614;usg=AFHzDLvKw7_lytfpG_rjsVHsWanxwqKEzA;adurl=http%253A%252F%252Fwww.drjays.com%252Fshop%252FP1429614%252Fnba-mlb-nfl-gear%252Ff-a-m-u-pullover-fleece-hoodie.html%253Fgwc_h%253Dgooglebase;pubid=581878;price=%2433.99;title=Nba%2C+Mlb%2C+Nfl+Gear+Men+F+A+M+U+Pullover+Fleece+Hoodie+Green+Xx-Large;merc=DrJays.com;imgsrc=http%3A%2F%2Fmediaext.djnetworks.net%2Fmedia%2F108%2F225%2Ffiles%2F10822557.jpg;width=108;height=135
//platform.twitter.com/widgets.js