This is the third in a series examining the top players at each position for HBCU schools and conferences. Today we're taking a look at the top returning quarterbacks in the Central Intercollegiate Athletic Association (CIAA). Tomorrow, we will take a look at the MEAC.
Keahn Wallace, Johnson C. Smith
Heading into his sophomore season, Wallace let it be known he had an issue with the perception of Johnson C. Smith football. In 2013 he did everything he could to change that perception, leading the conference in completion percentage (63 percent) and finishing second to in touchdowns (22) while throwing just ten interceptions. He also led JCSU to a 5-2 record in the CIAA, finishing second to Winston-Salem State, the national runner-up.
Cameron Stover, Chowan
Like Wallace, Stover plays for a team that doesn't have a great CIAA tradition (or a long one for that matter). But Stover's stellar play had Chowan in the hunt for the CIAA Northern Division championship late in the season. He finished the season second in accuracy (60 percent), fourth in total yards (2,358) and fifth in yards per game and touchdowns. The 6'3, 190 pound senior from Michigan will also have his top two receivers back in Ryan Nolan and Antjuan Randle.
Anthony Carrothers, Winston-Salem State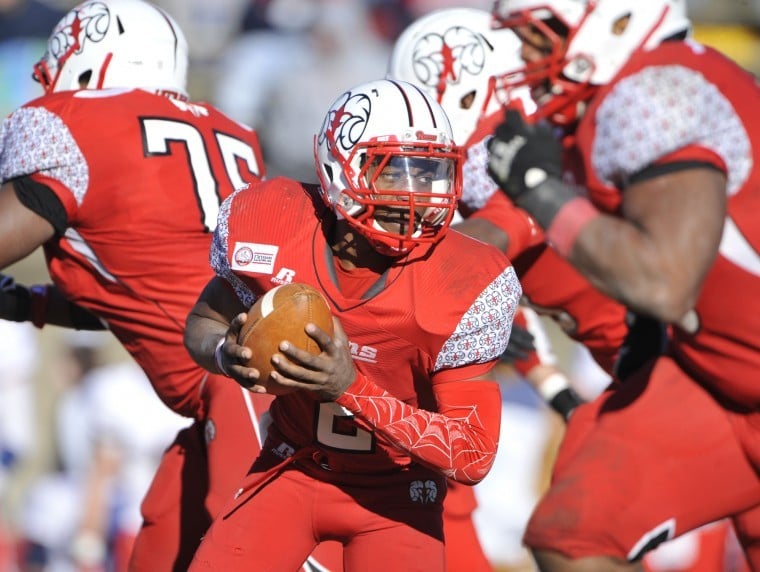 It's been three long years, but Anthony Carrothers finally has a chance to leave his mark on college football. The 5'9 Charlotte native started as a freshman at FCS Grambling State, but transferred to Winston-Salem State prior to the 2011 season, when he redshirted for the Rams. Last season Carrothers spent considerable time driving WSSU's high-powered offense, relieving starter Kam Smith in blowout victories. Carrothers filled in for Smith in the CIAA championship game, and started two playoff games, passing for 332 yards and three touchdowns in WSSU to a win over Shippensburg (PA).
Two things to watch for as Carrothers attempts to lead WSSU to its third consecutive CIAA title: First, how durable will he be? His small frame and tendency to use his legs lend itself to injury, as he just had shoulder surgery in the spring. Secondly, who will step up in the Rams current receiving corps. The Rams offense lost its top three pass catchers in Jameze Massey, Jahuann Butler and Jamal Williams. The type of production those players provided will be hard to duplicate.
Anthony Carrothers transferred to WSSU… If you don't know what that means… Just know that WSSU will win the next 2 CIAA football titles.
— Winston (Wilmo) (@Bigwilmo) August 7, 2011
//platform.twitter.com/widgets.js
#WSSUQB Anthony Carrothers takes abig hit cinemagr.am/show/55641190
— HBCU Gameday(@HBCUGameday) November 26, 2012
Drew Powell, Livingstone College
Livingstone may not have won a CIAA title since the 1990s, but last season Drew Powell gave them reason for optimism. The 6'3, 225 pound quarterback from Upper Marlboro, MD set Salisbury, NC on fire in his freshman season, starting the season with two consecutive 300 yard-plus games, and setting new school records in completions in a single-game (30) and season (197). The second half of his season wasn't quite as spectacular, he threw just three touchdowns in October, but he only turned the ball over once during that span. Powell will look to follow his Rookie of The Year campaign by improving his team's 2-8 record.
//platform.twitter.com/widgets.jsTeddy Bacote, St. Augustine's
St. Augustine's Teddy Bacote may not have the flashiest numbers, but he's consistent. The 6'4, 215 pound Hampton, VA native finished fifth in the conference in completions and attempts, while leading the Falcons to a respectable 4-3 record in the tough Southern Division. St. Augustine's always seems to be in the mix, but if they are to take the next step, Bacote will have to his production in his senior season.