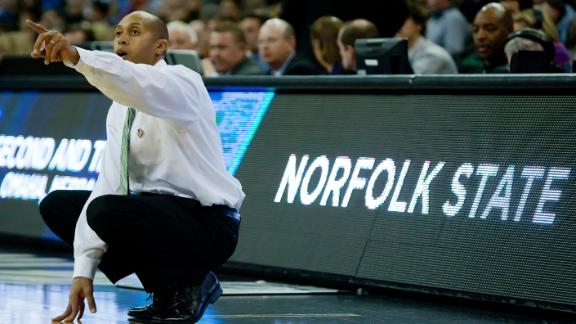 Anthony Evans is still in the running for the vacant Marist head coaching position.
After leading Norfolk State to its second consecutive Division I postseason appearance, Anthony Evans may be headed north. The Midtown (NY) Times-Herald Record reports Evans interviewed for the head coaching opening at Marist earlier this week.
According to the report, Evans is one of three candidates who have interviewed for the position so far.
The 42 year-old coach just completed his sixth season at Norfolk State, leading the team to a 21-12 record and an NIT appearance. In 2012, Evans led NSU to its first-ever NCAA Tournament Appearance, where they shocked the world by beating second-seeded Missouri. His overall record is 99-94 at NSU.
Needless to say, losing Evans would be a big blow for Norfolk State. Evans has been an intregal part of the revival of NSU sports at the Division I level. But like any mid-major coach who has turned nothing into something, Evans was bound to draw attention. Even if he doesn't take the Marist job, with the talent NSU has returning, the team has the potential to make another NCAA Tournament run and opening up more doors for Evans. Spartan fans, enjoy him while it lasts.
Update: 4/5/2013
There hasn't been much to report on the Marist job since last week, but Sean McMann of the Poughkeepsie Journal reports that Marist AD Tim Murray will continue the process of selecting a new head coach while in Atlanta for the Final Four this weekend.
Murray said list of potential replacements for Chuck Marin has been whittled down as of late, though he wouldn't get into specifics.
"Yes, I would say our list is short at this time. We've focused the list down, yes. I'd rather not put a number on it," he said.
"We're hoping we can start finalizing things shortly after I return from Atlanta."