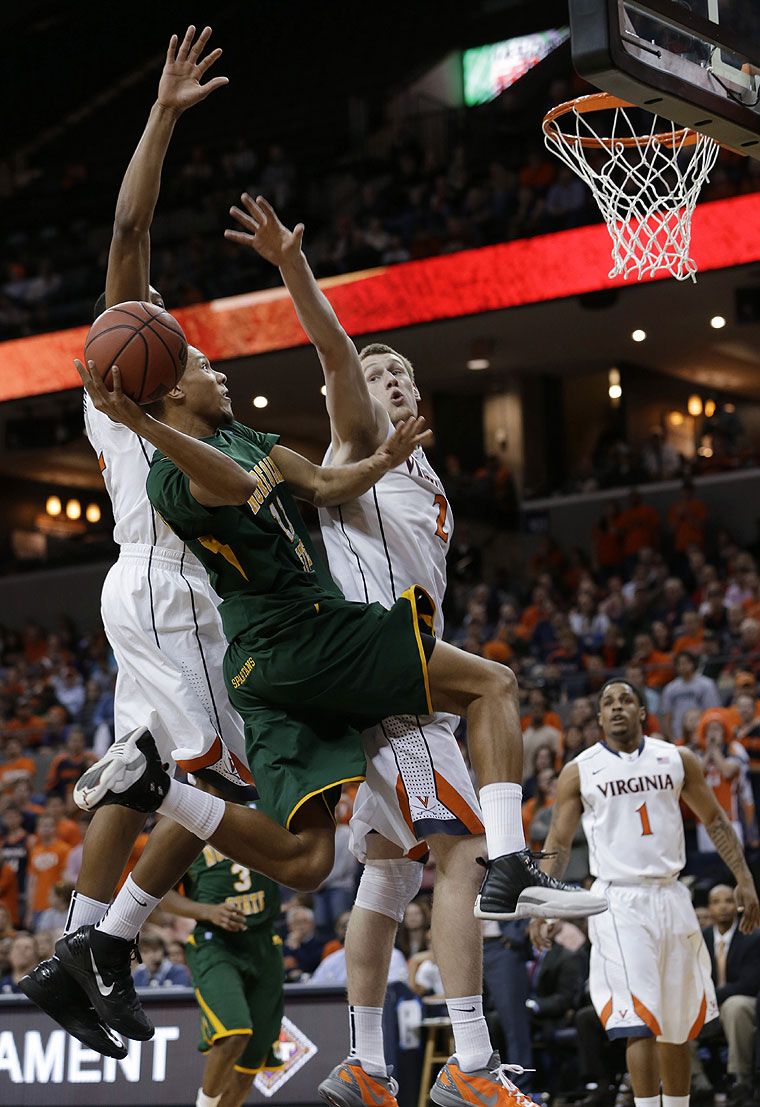 Norfolk State's Pendarvis Williams goes in for a layup against Virginia in the NIT. (Virginian-Pilot photo)
1. After nine disappointing trips, North Carolina A&T finally got its first NCAA victory Tuesday. A&T survived a late scare to come away with a 73-72 win over Liberty to kick off the 2013 NCAA Tournament. Backup Jeremy Underwood came up big for the Aggies, scoring a career-high 19 points. A&T also got a big time performance from freshman Bruce Beckford. A&T will now face top-seeded Louiville in Lexington, Ky on Thursday.
2. Norfolk State saw its season come to an end with a tough 67-56 loss to Virginia in the opening round of the NIT.The Spartans cut an 11 point deficit down to three points late in the second half, but could not seize the lead. Norfolk State ends its season with a 21-12 record, but 10 players will return next year, including MEAC Player of The Year, Pendarvis Williams. The Spartans will once again be a force in the conference.

3. Savannah State also ended its season with a nail-biter, ultimately falling 66-65 to East Carolina in the first round of the CIT. The Tigers led 32-25 at halftime, but the Pirates found their groove offensively, and Miguel Paul's free-throws were enough to keep them out of the win column. Savannah State ends the season with a 19-15 record.
4. Tennessee State attempted a late rally against Evansville in the CIT, but it was too little, too late as it fell 84-72. TSU's Robert Covington scored a team-high 19 points and grabbed 14 rebounds for the Tigers. TSU finishes the season 18-15.
http://ad.doubleclick.net/adi/N7433.148119.BLOGGEREN/B6723627.3700;sz=300×250;ord=%5Btimestamp%5D?;lid=41000613802463289;pid=1419684;usg=AFHzDLtjMCSBtNZvM-3sCunvlNwp0IzELQ;adurl=http%253A%252F%252Fwww.drjays.com%252Fshop%252FP1419684%252Ftradition%252Fnorth-carolina-at-crewneck.html%253Fgwc_h%253Dgooglebase;pubid=581878;price=%2430.98;title=Tradition+Men+North+Carolina+A%26T+Crewneck+Grey+Medium;merc=DrJays.com;imgsrc=http%3A%2F%2Fmediaext.djnetworks.net%2Fmedia%2F106%2F045%2Ffiles%2F10604543.jpg;width=108;height=135