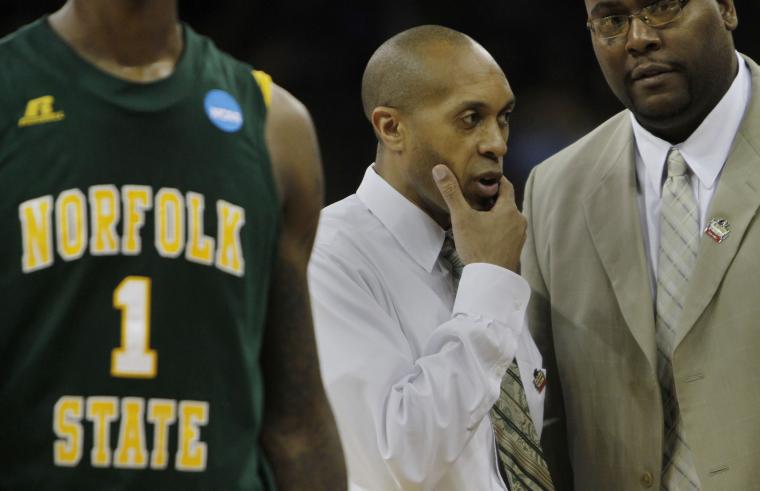 Anthony Evans of Norfolk State is a finalist for the Hugh Durham Award. (HamptonRoads.com photo)
The honors just keep coming for Norfolk State's Anthony Evans and North Carolina Central's LeVelle Moton. The coaches for the MEAC's top teams have been named two of 21 finalists for the Hugh Durham Award by CollegeInsider.com.
The Hugh Durham award is given annually to the nation's top mid-major coach. This will be the third coaching honor this pair have wrestled over this year. Round one went to Evans, as he was selected MEAC Coach of The Year. The pair are both in the running for the Ben Jobe Award, given the top minority coach in Division I Basketball.
Evans led Norfolk State to its first ever regular season title this season. The Spartans finished the regular season with a 21-10 record, including a 15 game winning streak.
Moton's North Carolina Central squad finished a close second to NSU, with an overall record of 22-8. NCCU finished 15-1 in the conference, with their sole MEAC loss coming to Savannah State.
The two coaches have not gone head-to-head yet this season, but are the favorites to meet in the MEAC championship game in Norfolk. Both teams will open MEAC Tournament action today, with Norfolk State going up against Bethune-Cookman followed by North Carolina Central facing archrival North Carolina Central in the quarterfinals.

The 2013 award will be presented at the CollegeInsider.com awards banquet in Atlanta, site of the men's NCAA Basketball Championship.