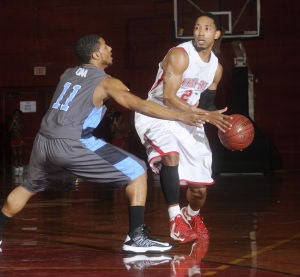 Livingstone guard Mark Thomas has led his team to seven wins in a row.

Livingstone vs. Elizabeth City
How They Got Here: Elizabeth City State entered this year's tournament as a second seed, which drew them a matchup with the hometown-team Johnson C. Smith in the quarterfinal. The Golden Bulls gave the Vikings all they could handle, as they held on for a 65-63 win to advance. ECSU survived despite getting just eight points Angelo Sharpless, the CIAA Player of the Year. They did, however, get a big game from freshman guard Miykael Faulcon. Faulcon scored 17 points, hitting five of six three-point attempts.
Speaking of hot outside shooting, Livingstone was lights out from start to finish Thursday night. The Southern Division champions hit 11 of 16 three-point attempts and forced 25 turnovers en route to a 95-70 victory over St. Augustine's. The Blue Bears got solid production from their two leading scorers, guards Mark Thomas (25 points) and Jody Hill (17 points) combined to shoot 8 of 12 from downtown. The win was Livingstone's seventh in a row.
How They Matchup: As teams in opposing leagues, ECSU and Livingstone played each other just once this season, in Salisbury on Jan. 10. Elizabeth City held on for a 80-79 win with a big game from Sharpless. The 6'4 swingman finished with 26 points, 10 rebounds, 3 assists and 3 blocks, helping his team win a game in which four Livingstone players finished with double figures.
Livingstone is hard to pin down defensively, as they are near the top of the conference in steals (2nd) and blocks (3rd), but rank near the bottom in opponent's field goal percentage and allowed teams to shoot for a conference-high 37 percent.
Conversely, Elizabeth City State excels at shutting down its opponents from outside, limiting them to just 27 percent from the three-point line during the regular season. Though he still scored plenty, ECSU held JCSU's Parks below his scoring average of 25 points per game.
Bottom Line: Livingstone must keep up its hot shooting and let Thomas control the flow of the game. Elizabeth City needs Sharpless to come up much bigger of Friday if they hope to pull off the upset.
Verdict: Livingstone in a close one.